1×11 takes on Swains Lane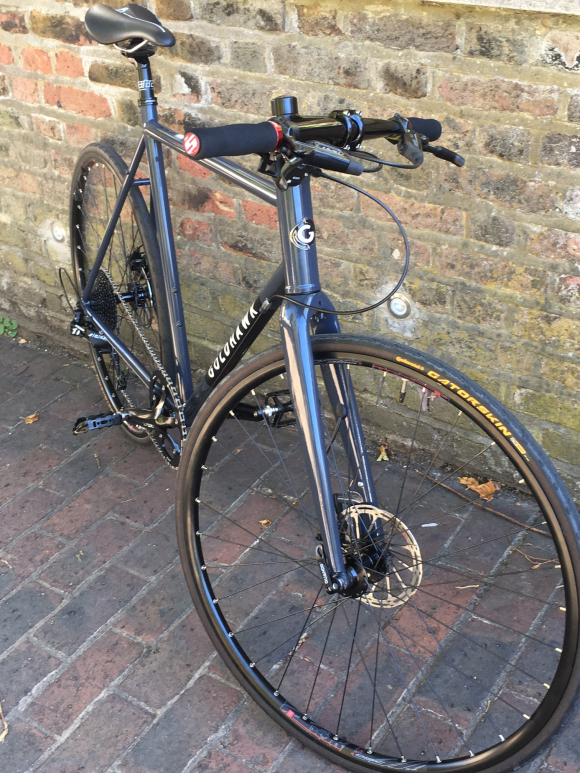 What better way to take a detour to the office than having a crack at Swains Lane, Londons' steepest hill with an average gradient of 8%, but peaking at a breath taking 20%
The objective.  Put our custom 48t 11/36t 1 x 11 set up through its paces, crack that hill without coming out the saddle and put in an OK time, whatever that might be.
Starting off from West London (yep, the Goldhawk Road) was probably not the wisest decision, but who plans these things in advance anyway?
There's no denying Swains Lane is a hell of steep climb and I was certainly panting at the top, but I did manage to stay in the saddle.  My time? I forgot to hit start on the stopwatch!
Well, it was such a sunny day, so there was nothing for it but to go all the way back down and start again.  Wheeeee!
I'm quite proud of my 5 minute 10 second ascent.  It's not going to win me any prizes, but it does show how versatile our 1×11 set up is.  I made it up the hill (twice) and went down without spinning out.  The brakes earned their money too.
Happy riding.
Jeff
Footnote.  In looking up stats for the hill, I came across some sub 2 minute times.  Professional riders, I take my hat off to you.  Bet you stood up though…