1×11 Tech Talk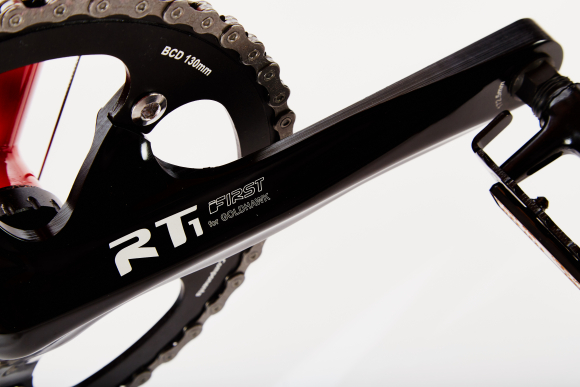 1 by gearing. What's it all about?
'1 by' or 1×11 as used by Goldhawk, is becoming ever increasingly popular. With the development of better derailleurs, chains and chaninrings, 1×11 setups give a great range of gearing, are simple, uncluttered and in my opinion, just more elegant.
I'm not here to bad mouth twin or triple chainring setups and I can't see those disappearing anytime soon, but this article aims to give you some background around how I did it when designing the Goldhawk.
1×11 ditches the front mech, shifter and second chainring and uses a special derailleur, chainring, narrower chain and an 11 cog cassette occupies the same space as a 10.
Goldhawk uses SRAM components, 1, because they work just work great and have never let me down and 2, because they really led the way with 1×11.
The derailleur incorporates a 'roller bearing clutch', allowing the mechanism to rotate freely in one direction, but not the other. This eliminates bounce and helps keep the chain on. The derailleur also includes a nifty lock out mechanism making rear wheel removal so much easier. What's not to like about that?
The chainring is what's known as a 'narrow wide', meaning that instead of being stamped from a blank, its machined to have alternating narrow and wide teeth that fit into the inner and outer chain links respectively. This is the second element to keeping the chain on.
At Goldhawk, we use a bespoke 48t aluminium 7075 CNC machined chainring, but more about that later.
The cogs on the 11 speed cassette are pretty much the same width as a 10 speed, but spaced closer together and the 11 speed chain is thinner on the outside to fit in the smaller gaps, but still plenty strong enough.
OK, components covered, what about the gearing itself. One of the reasons for writing this piece is that whilst there's plenty of articles already about 1×11, they cover a very broad spectrum, so it's not always clear why a particular set up has been chosen.
I'm not a racer, but I like to ride fast. To that end, my early bikes used the classic 'compact' arrangement of a 50/34t up the front and 11/28t at the rear. You'll find this setup on a lot of bikes and it's the starting point from where the Goldhawk configuration ended up.
To be blunt, I hated the front mech. Noisy, clumsy, ugly. I said I wasn't going to bad mouth multiple chainring setups, but it's important to know how the journey begins.
I also rarely used the smaller chainring. When climbing a hill, I'd stay on the big ring, get all the way to 1st, run out of steam, switch to the small ring and then jump back down the gears to find the right ratio, thus buggering up my rhythm. I'm aware this is not the 'professional' way of planning a hill climb, but I'm sure they are plenty of others who do the same thing.
So, some years back, I configured a bike with a single 50t chainring and an 11/32 10 speed cassette. It was pretty good on the gearing but didn't use '1 by' components so there were plenty of chain coming off incidents.
I'll be honest, at the time, I was unaware of the existence of 1×11 and how popular it was becoming in mountain biking. I last rode MTB seriously in Colorado back in 2009 and the trusty Kona rarely sees the light of day anymore. Anyway, I liked what I saw and was keen to use 1×11 on the Goldhawk project.
What I did find though was that the biggest chainring available was a 42t. It gave a stupidly easy 1st gear, but just wasn't enough for fasterer riding. I was often running out of gears and the chain line was bad.
So, after selecting the very nice 11/36 11 speed cassette (same as the 10 speed 11/32 but with that extra 36t 1st gear), I sat down with a calculator, a strong pot of coffee and worked out that a 48t was what I needed.
Now, going back to the old compact ratios by way of comparison, that setup gave a 1.2:1 first gear and a 4.5:1 top gear. The Goldhawk 1×11 setup achieves a 1.3:1 first gear and 4.4 to 1.0 top gear.
Given that I never needed 1st or top gear on the compact, this is pretty bang on! You can see the full gearing chart below.
It's actually possible to fit a 11/42 cassette using the SRAM derailleur and we can certainly build that if requested, but personally, I just don't think it's necessary.
The final step was to get my colleagues at First Components to custom machine me some 48t narrow wide chainrings. Now, Goldhawk is a 'boutique' brand, so we only make bikes in small numbers, but after some persuasion (I didn't stop calling), they finally agreed.
So, there it is, the story of how I achieved the gearing I wanted. I love it, it works like a dream and puts a big fat smile on my face. I've put around 9000 miles of real road testing on the various configurations and check out the Swains Lane story to see how the bikes coped with that monster.
There will of course be a few people who know more than me about the bike I designed and why I did it all wrong, but in all seriousness, you gotta know where you're coming from in order to get to where you want to be.
Thanks for reading. Jeff